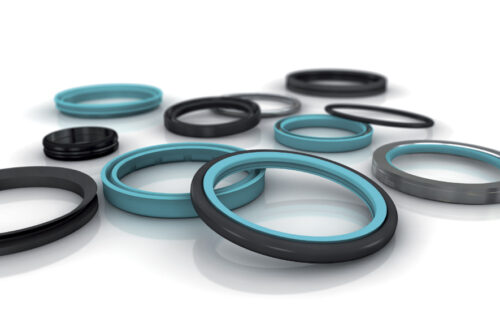 Products
|
Rod Seals
|
Piston Seals
Stepseal®
Stepseal® V,  a single-acting o ring energized piston seal with hydrostatic pressure relief channel for dynamic applications. It prevents pressure trapping between seals under all service conditions. Installed in closed grooves, including grooves to ISO 7425, Stepseal® V offers high sealing efficiency. It also has low friction with no stick-slip, minimal breakout force and high wear resistance.
Stepseal® K, comes closest in satisfying the ideal demands of a dynamic seal. That is, no leakage under all dynamic conditions and completely leak tight when the system is static. In use for several decades, this seal remains a technically outstanding design. The single-acting sealing element is made of high-grade PTFE materials with superior sliding and wear resistance properties. A full range of sizes are offered to suit all MIL-G-5514F and Trelleborg Sealing Solutions standards using an o ring as the energizing element.
Stepseal®2K, was originally developed and patented by Trelleborg Sealing Solutions as a rod seal. Due to its outstanding properties it is well suited as a single-acting piston seal where high demands are made on positional accuracy and free movement.
Stepseal® 2A, has all of the excellent performance characteristics of Stepseal® 2K with additional design features to protect against tilting as a result of back pressure.
Enquire about this product